11th April 2019
A Journey to Cyber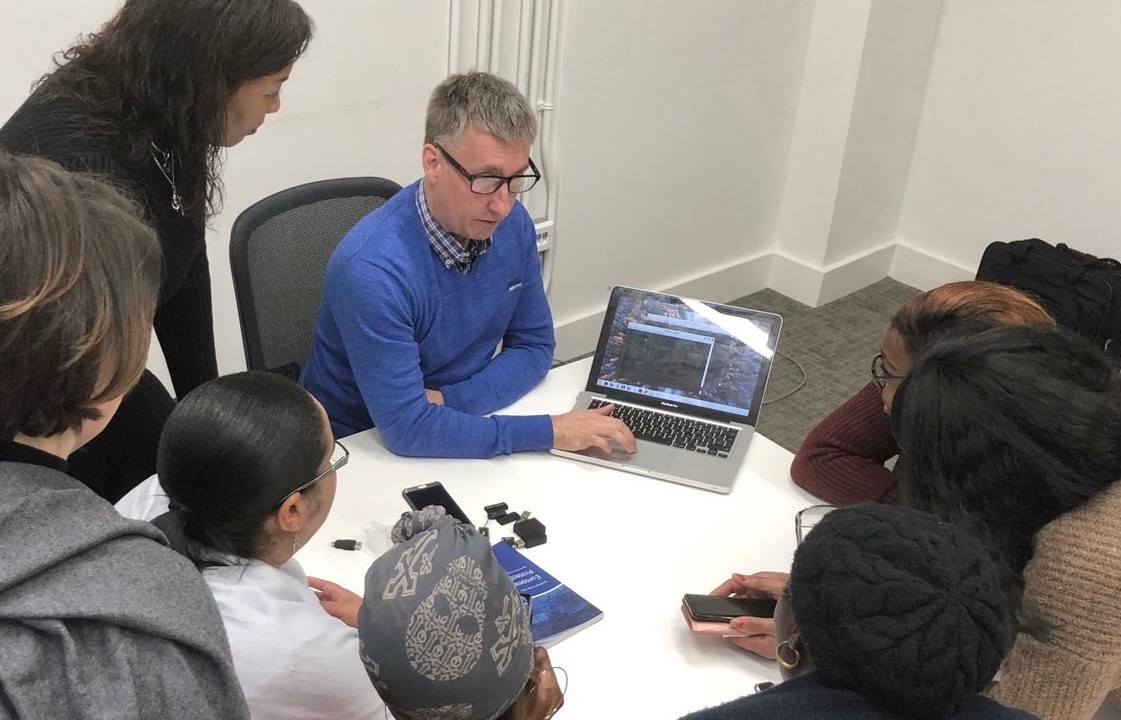 (The following is a blog written by a trainee from Cyber Safe Lambeth, an Integrate Agency CIC programme for the DCMS Cyber Skills Immediate Impact Fund. The programme was based in Brixton and provided single parents with practical cybersecurity training, with the aim of creating a thriving community of cybersecurity expertise in Lambeth. Integrate worked in partnership with High Trees Community Development Trust, Lambeth Council, Battersea Power Station Foundation and Gingerbread)
2018 was a tough year.
A series of incidents out of my control led to me presenting myself at the food bank at St Luke's Church in West Norwood, Lambeth. At first, my pride made it difficult for me to take that first step, however, reality left me with no choice but to take advantage of the help offered to me.
As I waited for the volunteers to prepare a care package, an outreach worker from High Trees – a local Community Development Trust, approached and asked about my circumstances and whether I was looking for work…
I was a single parent in Lambeth who had recently recovered from a serious injury which had prevented me from finding work after having been made redundant the previous year. I'd broken my neck in an accident and had gone through a long hospital stay and a tough rehabilitation process to bring my mobility back to what it had been before the accident – and had worked hard to bring myself to a level of fitness which surpassed that which I'd had previously. It was now time to put that hard work to use and step back into the workplace.
I tried to take an objective look at myself from an employer's perspective and asked several questions like, "What do I have to offer?". I had worked for a single company for a very long time, which meant that whilst I had skills and experience, they were very specific to the role that I performed in that job and were learned in situ; so I had no actual qualifications in that field to show for the wealth of experience I gained over the years.
It was this uphill climb that I felt would be the biggest barrier to finding gainful employment. No-one was knocking on my door and I felt as if all of my years of on the job learning would be overlooked and remain untapped.
Moreover, whilst looking for work, I was also a single parent, with my number one responsibility being to look after my child.
"I have something here that's quite specific: Are you a single parent in Lambeth, looking for a career change and have an interest in cybersecurity?" asked the Project Officer from High Trees. I frowned. It seemed as if the question was uniquely tailored for me – really?  
"Erm – yes, yes and yes…!" It seemed almost too serendipitous, but I fitted the bill exactly. An agency was offering free training in cybersecurity to single parents in Lambeth as a precursor to gainful employment with a new business start-up they were launching, which offered flexible hours delivering cybersecurity expertise to businesses on demand. The training specifically covered the hot topic of the new GDPR regulations
In my previous long-term role, I had been amongst other things, responsible maintaining the network at my workplace – due more by default as the most computer literate person in the business than by design, but this had given me experience in this skillset which was ripe for improvement, embellishment and the official stamp of actual training. There was to be a taster day of training at Lambeth Town Hall followed by an extended training course at a later date.
I signed up on the spot.
The taster days gathered together those which the Integrate Agency had put out feelers to. Through this sample training day, it became clear that not only did I know the subject to some extent, but it was something that I could actually apply myself to in a practical way. More, it would enable me to learn in a structured manner with a view to pursuing further opportunities through their start-up, Padlock, on launch.
A private Facebook group called "Cyber Lambeth" was created and attendees of the taster days were invited to join. This quickly became a community hub where cyber news, tips, and skills development opportunities were shared. Regular updates from the founder, Eoin, and our instructor, Kevin, kept the subject front and centre in our News Feeds to help us maintain a Cyber state of mind.
We attended the training days over two weekends and learned the basics of both cybersecurity and the GDPR – no mean feat in the time allowed, but Kevin is a skilled instructor who encouraged us to engage with the subject and bring our own knowledge to the table.
To augment and assist with these training days, we graduates set up our own WhatsApp group to exchange training tips and experiences with the aim of helping each other navigate through unfamiliar areas, getting to grips with formal certification opportunities, and swapping titbits of useful information we were picking up on the way. Once the training days were completed, there began to be a growing pool of us looking for the next challenge on the road to becoming willing and enthusiastic qualified cybersecurity experts.
We were now ready to take on the opportunities which started to arise through The Integrate Agency's diligent networking with other like-minded cybersecurity businesses in the marketplace. These opportunities were announced through the Cyber Lambeth Facebook group and open to all graduates.
During training, Kevin had discussed cybersecurity war gaming exercises where companies would test their readiness for a potential cyber-attack with a real-time incident scenario. An opportunity arose to not only take part in one of these exercises but to also be a participating observer for a company with close ties to The Integrate Agency – The CyberFish Company. I put myself forward and was lucky enough to be chosen. I met with the CEO of the company for a coffee to discuss the format of the days they had organised, and we gelled enough for me to be invited to join the team for a series of forthcoming events in London and the South East on behalf of the Department of International Trade with businesses who signed up for the experience.
These initial events went well enough for the CEO to ask me if I felt confident to Project Manage their forthcoming events, which entailed introducing The CyberFish Company's founder and cybersecurity expert and facilitating the Cybersecurity Incident War Gaming exercise itself. I didn't hesitate to say yes. CyberFish provided me with practical, on the job training in how to facilitate and project manage the event. I learned so much.
I'd augmented my initial skills and knowledge with that I had been trained in by Integrate and I continued with self-learning, encouraged by the two social media groups we'd created together. I was confident I had the necessary skills to be recognised by professionals who thought I had something to offer their company, and in turn, the wider business community which they were reaching out to in providing hands-on experience.
Last week, I stood still and took stock for a moment – I now had a solid business relationship with a company in a field, which a year ago, I had no experience working in. I had met and engaged with businesses in three cities and project managed valuable training exercises, passing on the knowledge I learned with The Integrate Agency. I'm also now an active member of a group of fellow graduates I can call on for reciprocal help and support when needed, and I'm due to undertake an industry standard recognised qualification this month – funded by Integrate. Lastly, there's the launch of Padlock which I eagerly look forward to.
These are all opportunities I was ready to grasp – I just needed to take the hand that was offered to me, unexpectedly, in a church in West Norwood.
__________________________________________________________________________
For more information about Cyber Safe Lambeth, the Integrate Agency CIC or Padlock please contact eoin.heffernan@integrateagency.co.uk
24-25 April | Padlock was selected to be part of the DCMS Innovation Zone for CyberUK 2019 and will be exhibiting on Stand IZ10 #CYBERUK19 and our CTO Kevin McLoughlin will be pitching Padlock at the Cyber Den at 11:08am on 25 April.
20-23 May | Padlock is exhibiting in Toronto, Canada at Collision 2019 in the Alpha zone
4-6 June | Padlock was named as one of the 14 most innovative cybersecurity startups at the DCMS Pitchfest 2019 was selected to exhibit at Infosecurity Europe 4-6 June at Olympia London